President of the
73rd General Meeting of the Japanese
Society of Gastroenterological Surgery
Professor, Department of Digestive Surgery, Breast and
Thyroid Surgery, Kagoshima University Graduate School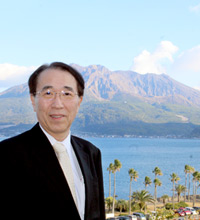 Dear Colleagues, Friends, and Distinguished Guests
It is a great honour for the staff, the Department, and Alumni to welcome all of you to the 73rd General Meeting of JSGS in Kagoshima City on July 11th, 12th and 13th, 2018.
JSGS will celebrate its 50th anniversary in 2018. Since its establishment in 1968, the Society has been developing as a place to present, submit papers, recruit specialists, etc. The theme of this General Meeting is "The Four Seasons: Inheritance of surgical mind and skill". 'The Four Seasons' is the title of our department's book alumni magazines, which is a metaphor of human life. which is exampled as a human life.The youth, or 青春 (sei‑shun), can be likened to the spring of life; 青 (sei) means immature and people should prepare their future. Young adulthood, or 朱夏 (shu‑ka), can be likened to the summer of life; people can enjoy and be enthusiastic about their own lives. Middle-age, or 白秋 (haku‑shu), can be likened to the autumn of life; people can reap their harvest. The most mature period of life, or 玄冬 (gen‑to), can be likened to the winter of life; it is said to be the time that people hand down their assets to the next generation. The subtitle 'inheritance of mind and expertise' 'inheritance of surgical mind and skill' means valuing to such precious assets that have been acquired through these past 50 years since the establishment of the Society, developing them by adding new ways of surgical mind and skills, and handing those down to the next generation over the next 50 years.
Kagoshima is in the mid‑summer in July. Business casual with no ties is highly recommended. The entire staff of our department is working hard for all participants to have a wonderful time and enjoy hot discussions during your stay in hot Kagoshima. After working hard in the General Meeting, you can fully enjoy food and drink in Kagoshima such as Shochu, the local distilled beverage, Berkshire pork, Japanese black beef, and Satsuma native fowl. In addition, 2018 is the sesquicentennial of the Meiji Restoration in Japan, which will be a commemorative year for Kagoshima as well. Many commemorative events will be planned under the title of "Kagoshima: The Origin of Restoration", and also a year‑long historical drama series "Sego‑don (西郷どん)" will be televised on NHK TV nationwide. It will also be a great idea to explore the Meiji Restoration‑related sites during the breaks.
We are looking forward to seeing you in Kagoshima.